See all the shoots and read the reviews:
When Profoto launched their new B2 Off-Camera Flash, my friends over at michaels got in touch with me to see if I wanted to take it out for a spin. They know I'm keen to start integrating lighting into natural light situations and hooked me up with the gear to try over a weekend.
I really wanted to put it through its paces so I came up with a variety of scenarios to understand how the Profoto B2 could elevate my work. I'll share my favourite shots, behind the scenes images and talk from the first scenario in this post.
Mens Lifestyle & Fitness Scenario
Talent: Paul from Vicious Models
Location: Under a bridge somewhere in Melbourne, Australia
Time: Mid-morning
Conditions: Cloudy/Overcast
Assistant 1: My good friend and photographic artist Trib HüVan helped as a Voice Activated Light-stand (VAL)
Assistant 2: My fiancee and amazing food photographer Rachel Jane took the behind the scenes images and was a VAL when needed
Gear: Nikon D600, Nikon 24-70mm f/2.8, Profoto B2 Off-Camera Flash (1 & 2 heads), Air Remote TTL-N, OCF Grid Kit, OCF Barndoor, OCF Softbox 1×3′ with Grid
Profoto B2 to create Edge Light
In this first shot I used the Profoto B2 with one head fitted with an OCF Grid. It took a few shots to get the light angled just right. As I've mentioned in other posts, I tend to go for a natural look and wanted subtle, realistically motivated light.

TIP: Angle the rim light so the shadow that it casts falls outside of the frame.
Augmenting Environmental Light
In this case the B2 is lighting the tunnel so that Paul stands out from the background and creates a subtle rim light. This was achieved using no modifiers.
I used the B2 to create light that was motivated by light that I was actually seeing with my eye. This short tunnel/archway did have natural light coming from the far side, but it wasn't strong enough to really separate Paul from the tunnel wall.
Profoto B2 as Rim Light
This shot was a similar set up to the shot above, but with the B2 head pointed more towards Paul than to the wall. Using a OCF grid controlled the light spill which created a darker, moodier image with a more prominent rim light.
One Pack, Two Light Sources
A great feature of the B2 compared to the B1 is that you can plug in a second head to the battery pack giving you another light source. I hadn't planned to use that feature during this shoot, but to get the shot below, I needed it.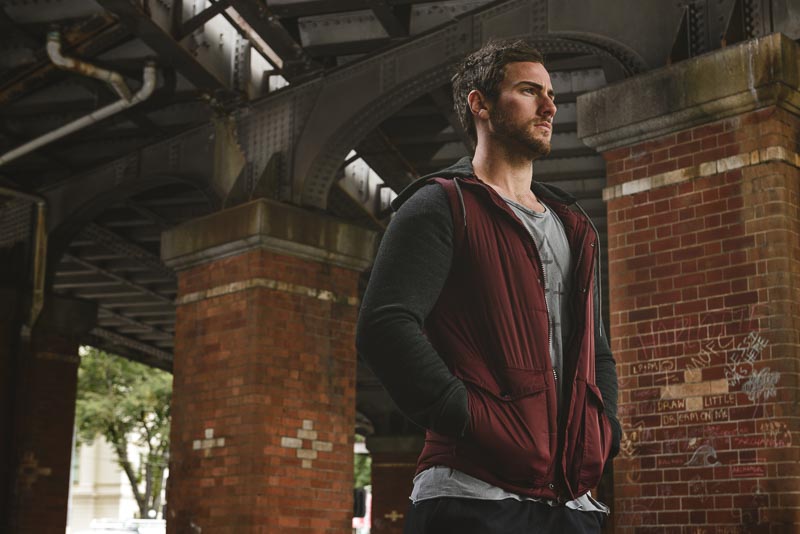 Profoto B2 for Fitness Photography
I didn't have as much time as I wanted to explore fitness with Paul, but did get some shots of him doing push ups that I was happy with. With the Profoto HSS system that I reviewed recently, I can see the Profoto B2 being a good tool to use during fitness shoots.
In this shot, the Profoto B2 was used make the natural rim light that was coming in from camera left harder and brighter. This creates an edgier image than what would have been possible using only available light.
Final Reflection
This shoot tested my skills, problem solving and was a great learning experience.
Initially I had planned on shooting this with my Canon gear, however the Air Remote TTL-C had not had its firmware updated. That meant that I couldn't use the Profoto HSS that allows the B2 to sync at high shutter speeds.
I tried making it work, but the movements I wanted to do were blurred by the ambient light because I was forced to use slower shutter speeds.
Luckily Rachel had brought our Nikon to take behind the scenes shots. The Air Remote TTL-N had been updated, and so that's why I shot this using Nikon. My plan had been to shoot Canon on Saturday and Nikon on Sunday, so I just flipped that around.
Thing was, we had only brought the Nikon 24-70mm f/2.8 with us for behind the scenes images, so I had to do the entire shoot with only one lens. It did prevent me from getting certain angles, however I do find that having a creating barrier can actually allow me to be more creative. That's part of the reason I sometimes just love walking around and shooting with my 50mm prime lens.
I've like to thank both Trib, Rachel and Paul for lending their time to help make these images.
If you have any questions about the Profoto B2 check out my full review.
MK
SHARE THE LOVE, SHARE THIS POST.